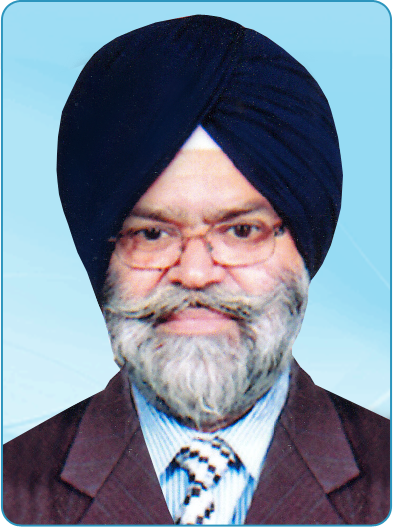 Professor Dalbir Singh Dhillon, Doctorate in History on the topic "Sikhism in the Sixteenth Century" under the supervision of renown scholar of Sikh History and former Vice-Chancellor of Guru Nanak Dev University, Amritsar. Dr S.S.Bal, has 40 years experience in the field of Higher Education and Research and authored three books which include Sikhism. Origin and Development, The Battles of Guru Gobind Singh, Sri Guru Arjan Dev. Presently he has under taken a research project on the "Evolution of the Sikh Institutions.

Many prestigious research dissertations on various important topics related to the history of Punjab and Sikhs have been completed under his supervision. He also possesses M.Lit with First class, Distinction and language courses in Sanskrit and Tibeta. His contribution in the field of academics and research have brought lessons to the institutions.


Apart from his keen interest in the subject of history he is deeply attached with his mother tongue Punjabi and contributed articles on different issues related to Punjab in various daily news papers in Punjabi language like Punjabi Tribune, Ajit etc. He is also associated with administrative affairs and worked as Dean Students Welfare, Dean Foreign Students, Head, Department of History at Punjabi University, Patiala.

In 2007, The Punjab Government gave him the responsibility of Chairman, Punjab School Education Board, Mohali. During his term as Chairman he played a key role to modernize school board's syllabus of different subjects, computerization of different branches and offices at district level. He has travelled as a member of the Government Delegation to various countries such as Germany, France, Canada , China, Malaysia, Sri Lanka and East Africa for the development of education.

Vice President of India, Chancellor of Punjab University nominated him Senate member. He was also nominated by Chancellor, Governor of Punjab for Senate membership. He has also played a key role in various administrative bodies of Punjab University, Chandigarh, Guru Nanak Dev University Amritsar; Himachal Pradesh University Shimla, Kurukshetra University, Kurukshetra and Punjabi University, Patiala.

Presently he is engaged to form chapters of World Punjabi Centre at diffeent places in abroad especially in Canada, (Toronto and Vancouver), U.S.A. (California) and Australia to promote Punjabi language, Culture and also to honor the distinguished Punjabi settled abroad.